Ultrafine powder mill is a professional machine which could be used in mining. As the name of the machine, materials powder processed by ultrefine powder mill is finer than common grinding mill process. Clirik will share the working principle and price with you.

When the ultrafine powder mill is at work, the main bearing and each dial are driven by electromotor through reducer, and all the grinding rollers are rolling in the ring channels driving by dial through plunger. The materials are driven to the edge of the turn plate by the centrifugal force and fall down into the grinding chambers. The high-pressure air blower constantly inhales air, airflow with crushed materials are brought to classifier whose high-speed impeller will screen the airflow: The unqualified particle size will fall and return to the mill for being reground while the qualified particle size mixed with air will go into the cyclone powder collector.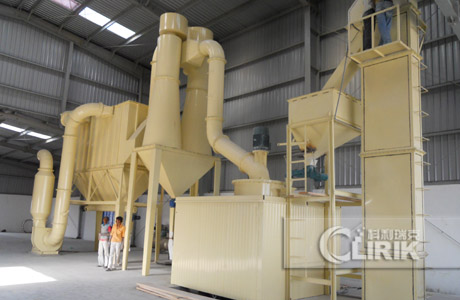 According to the rotational speed of working parts in ultrafine powder mill, it can be divided into low-speed ultrafine powder mill, medium-speed ultrafine powder mill and high-speed ultrafine powder mill.

As for the price of the ultrafine powder mill. Due to different requirements of the yield, particle size from customers, our ultrafine powder mill have a different price. Because, according to the grinding mill is used in a different area, the materials which are used in made ultrafine powder mill will have a bit difference. So there are some differences in the price. If you want to know the detailed price of the ultrafine powder mill, please contact us or leave message on the website directly. Our technical engineers will give you an accurate quote.