Ultra fine powder grinding mill can be used in: quartz, feldspar, barite, calcite carbonate, limestone, talc, ceramic, iron ore, carborundum, bauxite, rock phosphate, coal and other materials.
Hardness: 3 mosh
Moisture: under 2%
1500mesh: 2.2~2.6 ton per hour
2100mesh: 1.1~1.3 ton per hour
2500mesh: 1 ton per hour
D97 Passing Ratio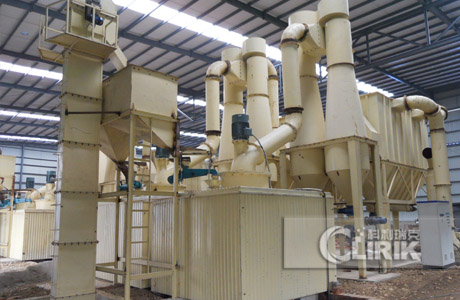 Improvements compare with old one:

1. Turn-plate(upper and down) both changed.
2. Discharging valve reduced to one.
3. Cyclone collector removed.
4. Grinder Transducer added.
5. Blower used bigger one.
6. Screw conveyor reduced.

Main advantages:

1. High grinding efficiency: save 20~30% power consumption compared with the ball mill. With the increasing of moisture content, it can save more and more electricity.
2. Strong drying capacity: dry and grind raw materials with moisture content as much as 15%.
3. Mutifunction: crushing, drying, grinding, separating and conveying.
4. Low noises and little dust: no direct contact between the grinding rollers and grinding disc, so metallic impact is avoided and its noises is 20~25 decibels lower. Totally closed negative pressure operation has employed by this vertical grinding mill, so there is no dust during the operation.
5. Low wear rate and little metallic pollution: its metal wear is only 5~10g/t.