Ultra fine grinding mill
is a kind of milling equipment with a wide range of applications. Ultra-fine grinding machine is one of the key machines and equipments for deep processing of non-metallic minerals. It is widely used in mining enterprises, cement plants and chemical plants.
Shanghai Clirik Machinery Co., Ltd.
is a professional mill manufacturer, bringing you professional articles on maintenance and repair of the mill.
Ultra fine grinding mill failure
1. The product has low fineness. The fineness of ordinary Raymond mill is generally below 500 mesh. These ultra-fine mills can only occupy the lower-end powder application market.
2.
Ultra fine grinding mill
has high failure rate, high power consumption, high noise and large pollution
3. The system efficiency is low, the separation effect of the product collection system is not ideal, a large amount of fine powder can not be effectively collected and repeated circulation in the system causes power waste
4. The design of the main bellows air duct of the Ultra fine grinding mill has made mistakes. The larger particles entering the material of the grinding zone and the particles that have been mined in the future are often thrown into the bellows and gathered at the tail of the volute, and continue to extend forward. The amount of over-wind is gradually reduced, which is easy to cause traffic jams, no powder or less powder, which affects production.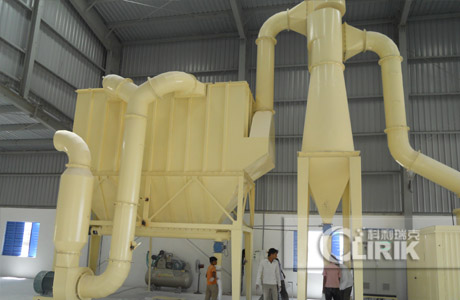 Ultra fine grinding mill maintenance
1. The shaft of the ultra-fine grinding machine bears the full load of the negative machine, so good lubrication has a great relationship with the bearing life. It directly affects the service life and operation rate of the ultra-fine grinding machine, thus requiring the injected lubricating oil. Must be clean, the seal must be good, the main oil filling part of the machine (1) rotating bearing (2) roll bearing (3) all gears (4) movable bearing, sliding plane.
2. The installation of the new superfine mill is prone to loosening and must be checked frequently.
3. Pay attention to whether the work of each part of the ultra-fine mill is normal.
4, pay attention to check the wear level of wearable parts, always pay attention to replace the worn parts.
5. The plane of the undercarriage of the movable device should be out of dust and other materials to prevent the movable bearing from moving on the chassis when the machine encounters unbreakable materials, resulting in serious accidents.