With the rapid development of the ore milling industry today, Clirik has lived up to expectations, adheres to the business philosophy of quality and service, and undertakes the development of high-yield and efficient ore mills. It has established many professional milling production lines in the grinding market at home and abroad. The economic construction and development have contributed to the development and created considerable value for customers!
Professional ore mills play a very important role in grinding ore powder. As a manufacturer, Clirik maintains an innovative development trend in the milling field, pays close attention to the development trend of the industry with a keen development perspective, learns and introduces high-end milling technology, and innovates and develops high-yield and high-efficiency mills. Since its development, Clirik has focused on improving the quality of mills, focusing on improving the service system, and has become a well-known high-tech enterprise.
Raymond mills, vertical mills,
ultra-fine grinding mills
, ultra-fine vertical mills, calcium hydroxide production lines and other equipment are all newly upgraded environmentally friendly ore mills developed by Clirik focusing on the development trend of the ore industry. It has played a broad application value in many fields such as non-metallic mines, coal mines, solid waste residues, metallurgical building materials, mineral deep processing, infrastructure construction, etc. The whole grinding production line has a scientific design, smooth operation of the mill, reliable performance and high powder extraction rate. , Well-known at home and abroad.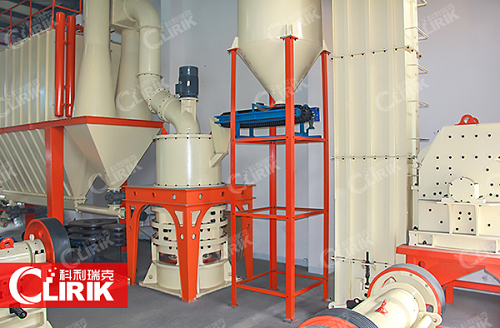 Here, through the busy workshop, we clearly feel the spirit of dedicated ingenuity; spring, summer, autumn and winter, cold and hot, the original intention of ingenuity will never fade, but it has become shining in the years of the sun, moon and stars. Brilliant and dazzling. Choosing a career, dreaming, working hard, striving for progress, and taking care of me throughout my life, this singular and respectable ingenuity makes people feel proud, and pay tribute to this Clirik team who is moving forward!
Since the struggle, Clirik has been intensively developing, down-to-earth, focusing on innovative research and development, and working hard for the development of the powder industry. It is precisely because of this ingenuity that Clirik has won many corporate honors and product patents. For the Clirik team, these heavy industries Honor is not only a recognition of our dedication and hard work, but also a great impetus to spur Clirik to move forward and gain reputation. In the journey of struggle and struggle, Clirik is grateful and has a heart of struggle to contribute a global brand to China and contribute to the development of the industry.
Non-metallic mine project
For processing non-metallic mineral powder, the Clirik mill is a good hand, professional, efficient, environmentally friendly, energy-saving, and high-yield. In the rapidly developing field of ore milling, it has become a right-hand man to help produce income and help broaden the market prospects.
①Limestone grinding project
Equipment: YGM Raymond Mill
Fineness: 325 mesh
Output: 20 tons per hour
Equipment: YGM Raymond Mill
Fineness: 400 mesh
Output: 7 tons per hour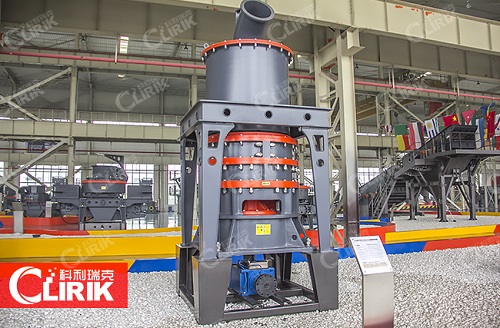 Mineral deep processing project
With the vigorous development of the ore fine powder market, the demand for mineral deep processing projects is becoming more and more vigorous. As a sharp tool for deep processing of minerals, Clirik's new ultra-fine mill has attracted much attention and market love, helping deep processing projects increase production and reduce costs, and create value.
①Calcium carbonate grinding project
Equipment: HGM ultrafine ring roller mill
Fineness: 800 mesh
Output: 5 tons per hour
Equipment: HGM ultrafine ring roller mill
Fineness: 10 microns
Solid waste recycling project
For solid waste slag projects such as slag, steel slag, water slag, coal gangue, etc., Clirik pays great attention to the development direction of comprehensive utilization, concentrates on the research and development of professional solid waste slag mill equipment, and uses professional grinding advantages to help solid waste turn waste into treasure and contribute .
Equipment: HGM vertical mill
Output: 18 tons per hour
Equipment: HLM vertical mill
Fineness: 325 mesh; 200 mesh
Output: 31 tons per hour for 325 mesh; 40 tons per hour for 200 mesh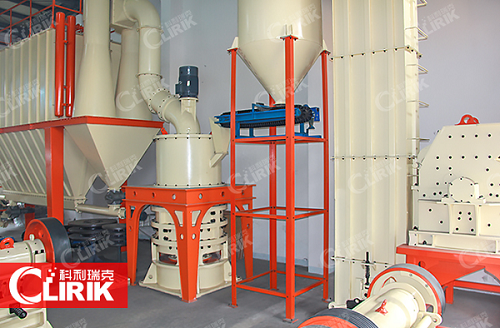 Pulverized coal is flammable and explosive. Professional coal mill equipment is safer, more efficient and more environmentally friendly. Aiming at the flammable and explosive characteristics of pulverized coal, Clirik has developed exclusive coal mine vertical mill equipment, added explosion-proof devices and anti-static treatment devices, and adopted a new open circuit system to achieve efficient production, which is very popular.
①Asphalt and coal powder mixture project
Equipment: PC vertical pendulum mill
Fineness: 200 mesh D90
Equipment: HGM vertical mill
Clirik, a milling machine manufacturer, achieves a brilliant future with quality, and is committed to providing exclusive complete milling production line solutions to contribute to the development of the powder industry!