Sepiolite ultrafine powder grinding mill is a kind of highly efficient industrial powder mill, it can grind ores into a fine powder up to 3000 meshes. There are two series of this equipment, namely HGM series ultrafine mill and CLUM series vertical mill, both of which can be used to grind non-metallic ores. They can freely adjust the fineness (150-3000 meshes), which has higher output, lower energy consumption and is more environmentally friendly than traditional mills.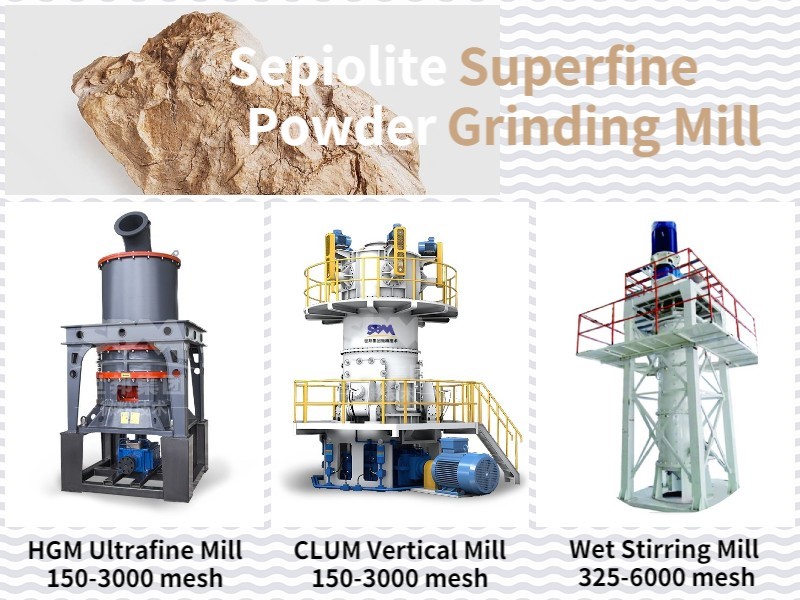 The chemical composition of sepiolite is Mg4Si6O15(OH)2•6H2O, which is a layered silicate mineral of orthorhombic (orrhombic) crystal system. It is usually white, light gray, light yellow, and other colored clay-like masses, sometimes in the shape of a crust or nodule. Under an electron microscope, its morphology is filamentous, and the aggregates are arranged like flakes. The luster is dim, with a conchoidal fracture. Hardness 2~2.5, specific gravity 2.2. It can strongly absorb water and become soft when it meets water, and harden when it dries again. Sepiolite can be formed by sedimentation or altered by serpentinite.

Sepiolite processing process:

The equipment required for the sepiolite processing process includes hammer crusher, bucket elevator, storage bin, vibrating feeder, ore mill, frequency conversion classifier, double cyclone dust collector, pulse dust removal system , high-pressure fans, air compressors, electrical control systems. The sepiolite is crushed by a hammer crusher, the components are ground by a powder mill, and then the powder is selected by a powder concentrator. The fine powder that meets the requirements is the finished product and is discharged through the discharge valve.




Introduction of sepiolite ore mill:

Sepiolite powder can be obtained by crushing and grinding process, which is widely used in chemical industry, agriculture, paint, rubber, medicine, construction and other fields. Common sepiolite powder has 200 mesh, 400 mesh, 600 mesh, 800 mesh, 1200 mesh and above. The industrial grinder produced by CLIRIK has high efficiency, stable operation, long service life, simple operation and convenient maintenance. It is very suitable for grinding sepiolite, and its fineness can be adjusted freely according to demand.

HGM ultrafine powder grinding mill >>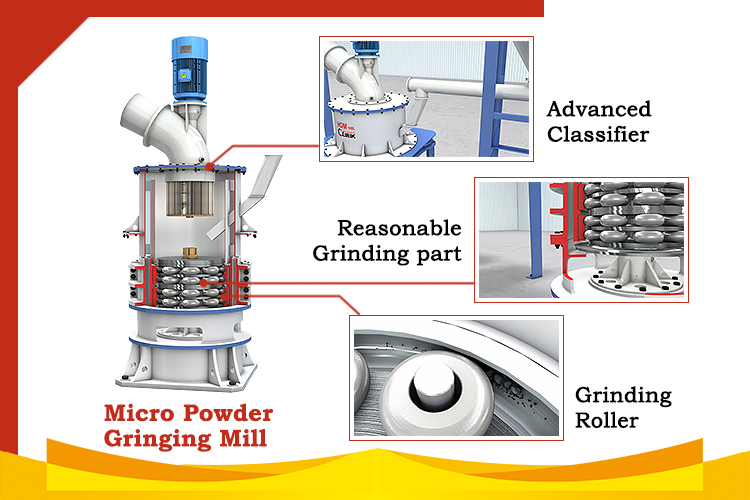 Small footprint and low investment
High efficiency, stable operation, high output
Use wear-resistant materials, long service life
Simple operation, convenient maintenance, no downtime for maintenance
Full negative pressure closed state, no dust pollution, environmental protection
Higher output than HGM mill
Intelligent operation and easy maintenance
Configurable secondary powder selection system
High content of fine powder, high content of 2 microns
The finished powder has high whiteness and good particle shape, suitable for high-end industry fillers


Application of finished powder of sepiolite ultrafine powder grinding mill:
Sepiolite powder has a wide range of uses in industrial and agricultural production: as an excellent raw material for preparing mud in geothermal drilling and deep-sea oil drilling; as a grease adsorbent, decolorant and purifying agent in the petroleum and oil industry; in the pharmaceutical industry Used as an ion exchanger, purifying agent and shelling agent in the glucose industry, as a clarifying agent in the wine industry; in the ceramic industry, it can be used as a raw material for glass enamel and a binder for ceramic slurries, etc.