Silica is a good material for sand making. After crushing, it can be widely used in glass, casting, ceramics, fire protection, metallurgy, construction, chemical industry, plastics, rubber and other industrial fields. In the process of silica crushing and sand making, the mainly used sand making machine is one of the very important equipments in the sand making stage.
Vertical Shaft Impact Crusher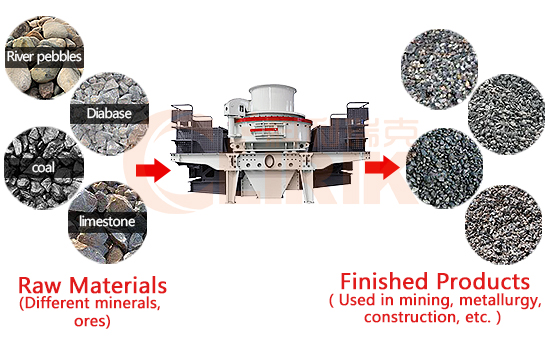 Silica vertical shaft impact crusher is a high-efficiency rock crushing machine developed by using crushing theory and technology combined with the actual situation of sand making. The silica sand processed by this equipment is mainly used for construction and road construction, and the finished product can meet the requirements of high-grade construction sand. Combined with the actual production of sand production, a number of technical improvements have been carried out, and the high-efficiency sand-making equipment with international advanced level has been developed. The equipment is widely used in high-grade buildings, highway (railway) construction, municipal engineering, large-scale water conservancy and hydropower facilities, concrete mixing stations, etc., to provide high-quality sand and gravel aggregates.
Advantages of Vertical Shaft Impact Crusher
1. The impact sand making machine has a simple structure, convenient installation and daily maintenance.
2. It has the function of forming, and the finished product has a cubic structure and high bulk density.
3. The principle of self-circulation of air flow in the eddy current room is adopted to reduce the internal dust and noise. In the process of sand making, the stone can be accumulated at the bottom of the cavity to form a protective bottom layer, so that the material does not wear out the machine, and the wearing parts are more durable.
4. The wear-resistant parts are made of high-quality wear-resistant materials, which can effectively reduce wear and prolong service life.
5. The impact sand making machine adopts a new type of four-port impeller and a deep cavity structure, which makes the material processing speed in the crushing cavity faster, the material processing speed is higher, and the material throughput per unit time is increased by 30%.
6. The internal air circulation design of the vortex chamber is adopted, and the airflow generated during the processing of the material is automatically generated, reducing dust spillage, low-carbon work, and more environmentally friendly.
7. Using a variety of lubrication methods, the bearing chamber adopts a combination of thin oil type and grease type, which can realize the overall exchange, automatic maintenance, and convenient maintenance.