[Name]: HGM80 Ultra Fine Grinding Mill
[Brand]: Clirik
[Maximum size of feed]: ≤10mm
[Production capacity]: 0.5–4.5t/h
[Finished Fineness]: 300–2500mesh
[Focus areas]: HGM80 ultra fine grinding mill focus on magnesite, manganese ore, gypsum, calcite, barite, fluorite, marble and other Mohs hardness below 7 and humidity less than 6% non-metallic mineral ultra-fine processing and AC foaming agent, carbon black, sulfur and other chemical material grinding, the equipment with a number of countries patented technology, performance reached the national leading level.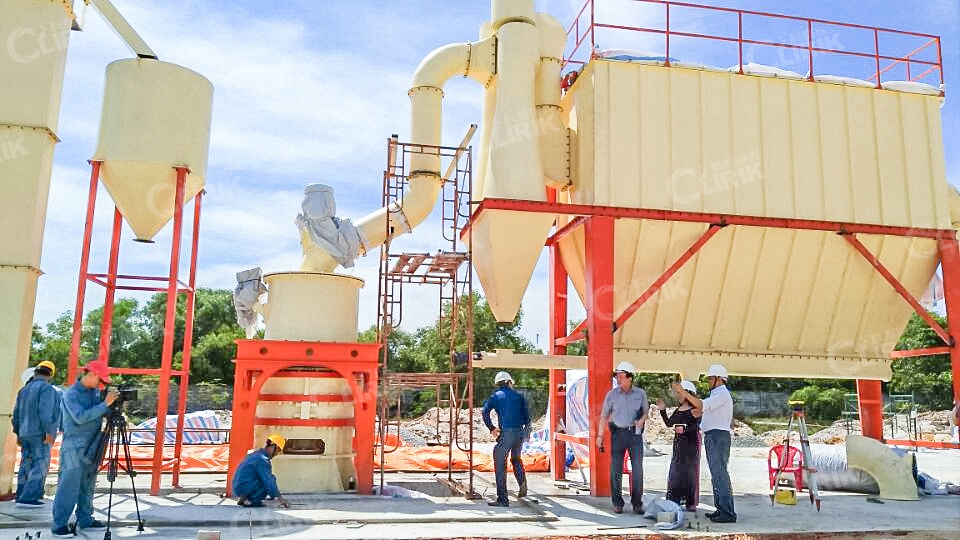 What is the application and principle of HGM80 ultra fine grinding mill?

Motor drives reducer which drives the grinding plate rotate, the material to move around the grinding plat into the gap between grinding roller and the plate under the action of centrifugal force, then been extrusion, grinding and shearing and crushed in the function of grinding roller pressure, grinded powders was blown air flow generate by blower to classifier which is above the HGM80 ultra fine grinding mill for classifying, coarse powder fall into HGM80 ultra fine grinding mill for re-grinding, the specifications powder flow into pulse dust collector and collected by the discharge valve to be finished product, the purified air discharge through pipes above pulse dust collector then emission to the atmosphere.

Technical features of HGM80 ultra fine grinding mill

Ultra fine grinding mill is advanced equipment developed by Shanghai Clirik after years of painstaking R&D through learning and the introduction of foreign advanced technology, it has many technical advantages such as strong material adaptability, suitable for dry material, hard grinding materials, mainly consist of main mill, feeder, classifier, air blower, pipeline device, storage hopper, electric control system, collection system etc., can adjust product fineness according to each customer's specific production requirements, to form a variety of capacity demand, meet the needs of different industries pulverizing demand, is high reliability and quality equipment which is high grinding efficiency and convenient maintenance.


Model
HGM80
HGM90
HGM100
HGM100A
HGM125
Ring Diameter(mm)
800
900
1000
1000
1250
Ring Number/pcs
3
3-4
3-4
4
4
Roller Number/pcs
21
24-32
27-36
27-36
40-44
Main Shaft Speed/r. p. min
230-240
200-220
180-200
180-200
135-155
Input Size/mm
0-25 mm
Finished Size/um
5-47(325-3000)
Capacity t/h
0.4-4.5
0.4-5.5
0.4-6.5
0.4-7.5
0.7-10
Outlet Size L*W*H/m
13.9*4*6.2
14.7*4.8*7.2
18*4.6*8.6
18*4.6*8.6
14*9*10.25