What is quicklime?
Quicklime, the main component of which is calcium oxide, is calcined from limestone and is generally used in steel mills, stainless steel plants, furnace charge plants, etc. The main processing fineness is less than 3mm, 100 mesh, 200 mesh, 325 mesh, 800-1250 mesh, etc. It can be used in sintering, desulfurization of steel plants and other fields. Limestone, the main component is calcium carbonate, and the leftovers after crushing can be reprocessed and utilized. The main processing fineness is 80 mesh, 200 mesh, and 325 mesh. It can be used in mixing stations, desulfurization and other fields. Coal powder is one of the fuels of the lime kiln, and the fineness of the coal powder used in the kiln is required to be 200 mesh D90.
CLIRIK has been committed to the research and development of energy-saving and environmentally friendly grinding equipment. The vertical mills, high-pressure mills, and micro-powder mills developed and produced by CLIRIK have won high praise from users in quicklime processing. The processed quicklime powder is used in building materials, plastics, rubber, flue gas desulfurization, Various fields such as sewage treatment, soil improvement and other industries and agriculture have broad prospects.
Lime processing technology and equipment selection
Lime enterprises mostly use traditional Raymond mills, ball mills, hammer crushers and other equipment to process lime and limestone. There are many problems such as large dust pollution, high energy consumption, backward production technology, frequent maintenance, troublesome refueling, poor product stability, uncontrollable particle size of finished products, artificial high cost issues. Environmental protection, energy saving, and intelligence have become the top priorities of powder processing enterprises. New environmental protection and energy-saving equipment such as YGM high-pressure mill, HGM ultra-fine mill, and CLUM vertical mill have been widely used and highly recognized in the lime industry.
Production of 20-400 mesh (0.8-0.037mm) quicklime and limestone preparation technology and process


CLRM series Raymond mill
Processing fineness: 200-400 mesh (0.8-0.037mm).
Stand-alone production capacity: 3.5-60T/H (depending on the model).
Scope of application: It is suitable for quicklime grinding and processing, requiring large output, low energy consumption, and intelligent environmental protection.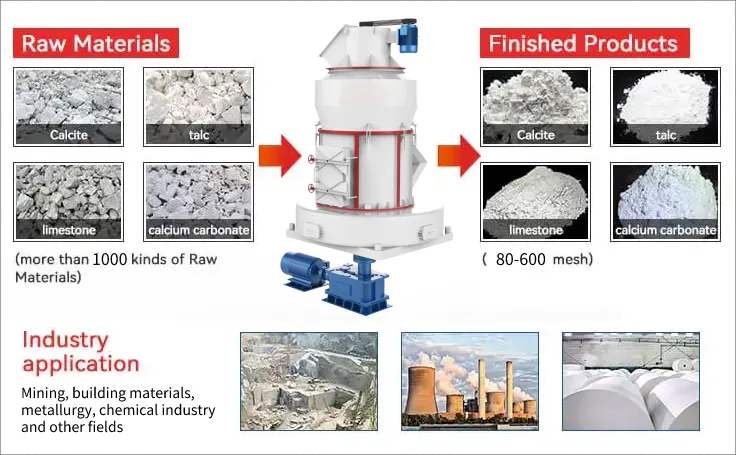 Five core technologies:
① Grinding roller linkage pressurization technology, production capacity, under the same power, output increased by 20%;
② Low infrastructure cost, low operating cost, single machine processing capacity up to 60T/H, economical investment;
③ Thin oil lubrication system: The main engine drive and fan drive system are all lubricated with thin oil, and the oil is changed every four months;
④ No-resistance air inlet volute + same-resistance layout scheme, which reduces the economic loss caused by system energy consumption;
⑤ New hanging cage type powder separator, frequency conversion control, more accurate fineness adjustment;
In addition, the mill adopts a negative pressure system, and the dust removal equipment adopts a pulse dust collector, and the dust emission standard meets the new national environmental protection standard.
Production of 400-3250 mesh (4 micron-38 micron) limestone and quicklime preparation technology and process


CLUM series vertical mill (mine mill) grinding process and technology
Quicklime usually has two kinds of products: rotary kiln and shaft kiln. The raw material of rotary kiln has uneven particle size and high impurity content, while the raw material of shaft kiln has uniform raw material and low impurity content. Liming Heavy Industry Technology has considered the material requirements of two different kinds of quicklime required by customers during the process design of the quicklime grinding system, and realized the seamless switching of the production of two different kinds of quicklime.
Scope of application: It is suitable for users who require a large output of quicklime powder. Fineness of primary finished product D97=200-38μm, 20-100T/H.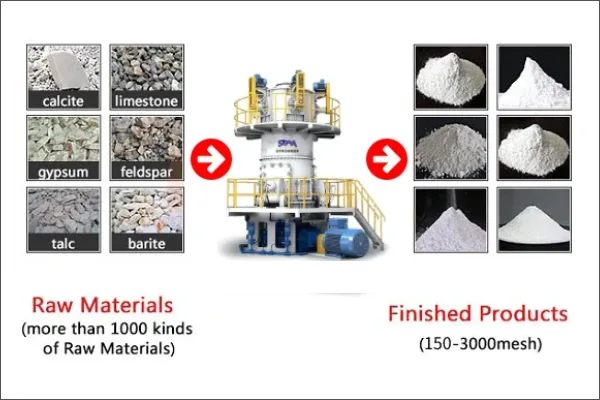 Advantages of this system:
1. The process system is simple, which reduces the investment in civil engineering and equipment.
2. The equipment is easy to operate and low in operation and maintenance costs.
3. The vertical mill is easy to switch and the workload is small. It takes a short time to switch from grinding vertical kiln products to grinding rotary kiln products without washing and grinding.
4. When producing rotary kiln products, due to the characteristics of the vertical mill, the unburned limestone and other sundries in the raw materials can be effectively discharged, the CaO content of the rotary kiln products is increased, and the added value of the products is effectively increased.
5. Compared with the combined grinding system of traditional Raymond mill and ball mill, vertical lime grinding has the advantages of wide adaptability, simple operation, quick adjustment, low maintenance cost, energy saving, etc. It is the preferred choice for deep processing of quick lime.
HGM Ring Roller Micro Powder Mill
It is a low-consumption ultra-fine powder processing equipment developed by CLIRIK with more than 30 years of mill manufacturing experience, after many innovations, tests, and designs. It has successfully replaced the traditional jet mill and ball mill. Reduce production costs and improve product precision.
The equipment has the advantages of superior performance, stable quality, simple operation, convenient maintenance, etc. It is an ideal equipment for ultrafine powder processing.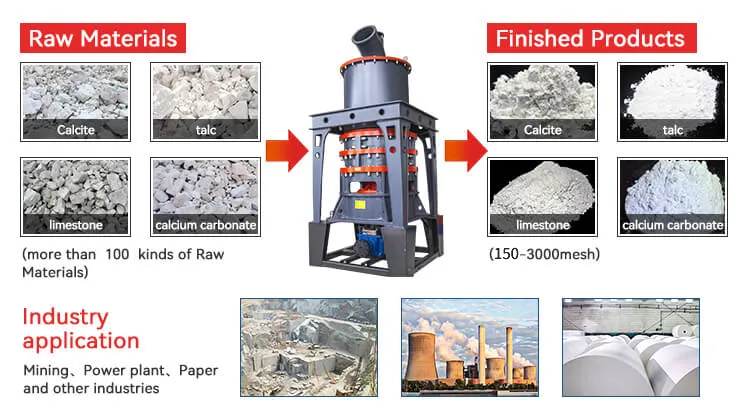 Finished product fineness: primary finished product fineness D97= 400-2500 mesh (4-38μm), the finest can reach 3250 mesh.
Stand-alone production capacity: 0.5-10T/H (depending on the model).
Scope of application: It is suitable for users who require a large output of quicklime powder.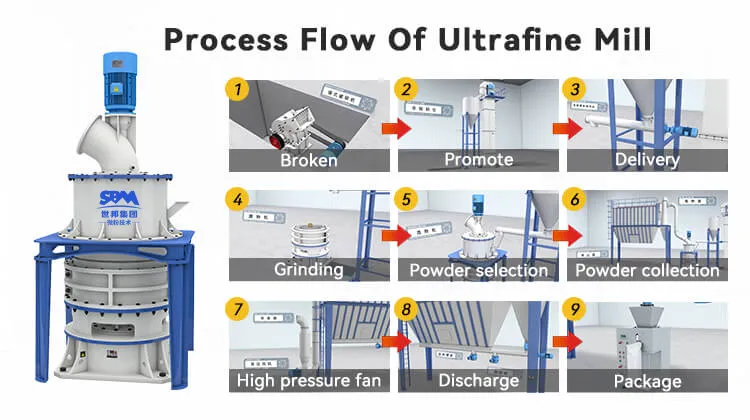 Three core advantages:
Stable, reliable and environmentally friendly: There are no rolling bearings and screws in the grinding chamber, which avoids the problems of easy damage to bearings and loose screws that will damage the equipment. The pulse dust collector is used, equipped with a muffler and a muffler room, which reduces dust and noise pollution and has a good environmental protection effect.
Low loss and high fineness: wearing parts are made of high-quality wear-resistant materials, with a service life of more than one year, and the fineness of the finished product can reach D97≤5μm at one time.
Low investment and high efficiency: Under the same finished product fineness and power consumption, the investment cost is lower than that of jet mill, and the recovery period is shorter, but the output is more than 45% higher.