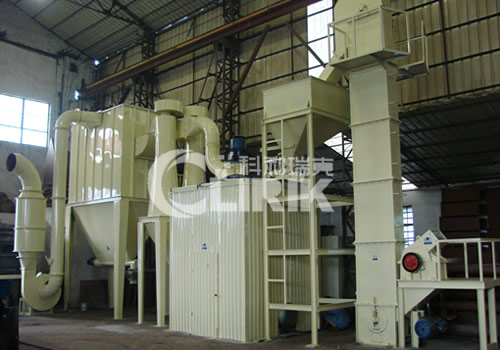 Limestone ultra fine grinding machine processing materials: hardness less than 6 in Moh's scale and humidity less than 6 percent such as kaolin, limestone, basalt, calcite, marble, talcum, barite, gypsum, dolomite, bentonite mud, mica, pyrophyllite, sepiolite, carbon black, diatomite, graphite, alunite, fluorite, potassium feldspar, phosphorite, pigment, up to 200 kinds. The granularity (or final size) of the finished products can be freely adjusted between 325-3000meshes (0.045-0.0057mm), and the capacity (ton/hour) ranges from 0.4T/H to 12T/H depending on the final size and the grinding materials.

Limestone ultra fine grinding machine working capacity: 0.4-12T/H 5-47 micron

Limestone ultra fine grinding machine's components: main unit, classifier, powder collector, dust cleaner, blower, muffler, sound-proof room, crusher, bucket elevator, storage hopper, and vibrating feeder.

If you want to know more about limestone ultra fine grinding machine, please contact us.
Phone: 4008-168-355; 0086-21-20236178;18917951321
Contact person: Esther Wang
Email: clirik-esther@clirik.com ;
Msn: esther-clirik@hotmail.com
Skype:esther-clirik
Online consulting: http://www.ultra-mill.com
Address: No.19 Fuqing Rd, Pudong New Area, Shanghai201201, China.